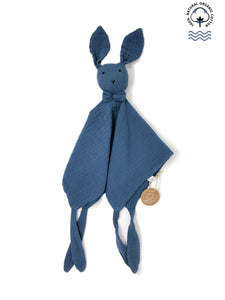 Organic Muslin Bunny Comforter - Club Navy
Regular price
£15.90
£0.00
Unit price
per
 A comforter is a soft toy or a small blanket that your baby will use to help settle themselves for sleep, also known as a 'security blanket'.
The first step is to integrate the comforter into your feeding routine. Leave the comforter on yourself for a few hours to absorb your scent, before introducing it to your baby. The scent of you on the comforter will naturally soothe your baby and help them to fall asleep quickly.
So Monoch London's bunny comforter has been designed from organic cotton muslin that is light, natural, non-toxic, breathable, chewable, and skin-friendly fabric to provide all versatile solution.
This adorable little bunny comforter will quickly find a place in your and your baby's heart.
And it's a perfect gift for newborns or baby shower.
Natural, non-toxic, breathable, chewable and skin-friendly
Highest quality 100% organic cotton muslin & Organic dye
Healthy, more absorbent, easily washable and fast dryable
You can tie it over your baby's bed or pushchair from bunny's legs
Size is 55cm x 55cm (including legs)
Pre-Washed Fabric
Luxuriously soft: even softer after washing
Easy care: Machine wash at 30c degrees to keep the softness
---
Share this Product
---